Filmmaker Daniel Shravan: Rape victims should carry condoms and cooperate in rape to avoid their murder afterwards
As published in OPIndia Filmmaker Daniel Shravan in a Facebook posting suggests that rape without murder should be legalised, and when women are assaulted by rapists, they should cooperate in the act and offer the rapist a condom, so that they are not killed afterwards.
Amidst the spate of gruesome rape and murder incidents being reported from across the country, Telugu filmmaker Daniel Shravan has suggested a shocking measure to tackle the growing menace of sexual assault and murder.
Shravan has suggested that instead of calling for police help, women should carry condoms and save themselves from the fate of murder. He suggests that when women are assaulted by rapists, they should cooperate in the act and offer the rapist a condom so that they are not killed afterward.
Singer Chinmayi Sripaada has shared the appalling pictures of the posts made by Shravan on his Facebook page. In one of the posts that has now been removed, Shravan has argued that "Rape is not a serious thing but Murder is inexcusable".
Shravan then contends that the Society and Women organisations are "real culprits for engendering the evil thinking of killing the rape victims after raping them". He argues that if the courts, government, and law provide an exemption for rapes, then rapists wouldn't think of murdering the victims.
In a repugnant attempt to rationalise rape, Shravan claims that legalising "Rapes without violence" is the only way to control the brutal killings of rape victims as the government/judicial decree will dissuade the rapists from murdering the victims. "Murder is a sin and a crime. Rape is a corrective punishment. No justice is going to happen with Nirbhaya Act or Priyanka Act. The agenda of rape is fulfilling the sexual needs of rapists based on that time or mood," Shravan said in a Facebook post.- Ad — article resumes –
He adds that the agenda of the rapist is fulfilling sexual needs of the rapists, based on time and mood. And if the society, court and women organisations ignore this crime, they will not be cruel by going to the next level of murdering their victims.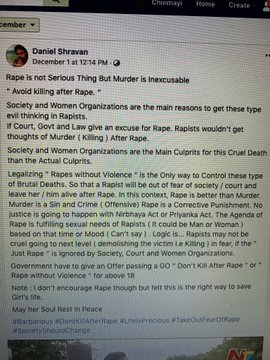 Furthermore, when one of the Facebook users commented on Shravan's odious post, asking him to consult a psychiatrist for his dangerous mental condition, Shravan brazened it out saying "If these adamant bitches didn't consent to the proposal made by the rapists, they will have no other way but to rape them". Shravan also responded in affirmative when the Facebook user asked him if he will have the same advice for women in his family.
Later he deleted all his posts on Facebook and posted a new message apologising for his comments. He gave an excuse for his comments, saying that he is writing those as dialogues of a villain character in a movie he is going to direct, and it was misunderstood by the audience. He said that the statements are not his opinions, and apologised for hurting sentiments.
---
---