Senior couple cheat death after tree crashes through roof
GEORGE TOWN: An elderly couple cheated death when a tree came crashing down their village house in Teluk Kumbar, near here today.
In the 3.30 am incident in Kampung Nelayan, Hasshim Ahmad, 76, dan his wife Salbiah Man, 74, were fast asleep when they were rudely awakened by a loud bang.
The couple got up to check and to their shock, found that an uprooted Ketapang tree, over half a century old, had crashed through the roof during strong windy conditions.
"It was a loud crash and we had no idea what caused it until we saw the parts of the damaged roof inside," he said when met at the scene of the incident, today.
The couple bolted out immediately for fear of further untoward incidences, after which they contacted their daughter, Rosita, and locals nearby for help.
Hasshim was thankful they escaped injuries but lamented the fact that the many things in the house were damaged.
He said it was storming during the incident and as a result, rain water had also seeped through the gaping roof and into the house.
For the time being, they will put up with their daughter, who resides nearby, Hasshim said, and expressed hope that there will be kind souls who were willing to fix the damaged roof.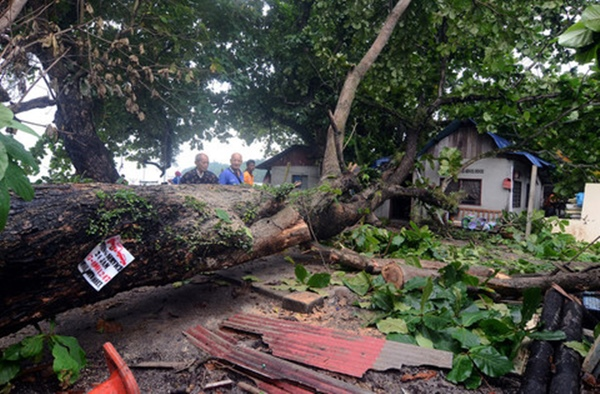 "The house is unsafe for dwelling and Alhamdulilah, the tree missed the neighbour's house. But we are still in shock of what had happened," he said.
Meanwhile, Bayan Lepas state assembyman Azrul Mahathir Aziz said efforts to remove the tree proved harder than initially thought as the damaged area was quite extensive.
"Clearing works are being done by the Fire and Rescue Department, with the assistance of several other agencies, using a skylift," Azrul said.
---
---